Topic: Lens mount conversion: Canon FL 85mm 1.8 to P/K
Yesterday, I went to a local camera shop and saw a copy of Canon FL 85mm 1.8 at a reasonable price. I grabbed it and planned to convert it to P/K mount. Following is a brief guideline since I did not take any picture during my work and this process is not repeatable, sorry
1. You need to cut down the rear part of the lens (I used a Stanley mini hacksaw from Walmart to do this). Please see the pictures below to have an idea where you need to saw.
2. Super-glue a M42 -> P/K adapter to the back of the lens (where you saw it). And that's it you have a 85/1.8 in P/K mount.
This is the original lens (From http://www.mir.com.my/rb/photography/co … index.htm)

And this is the modified version in P/K mount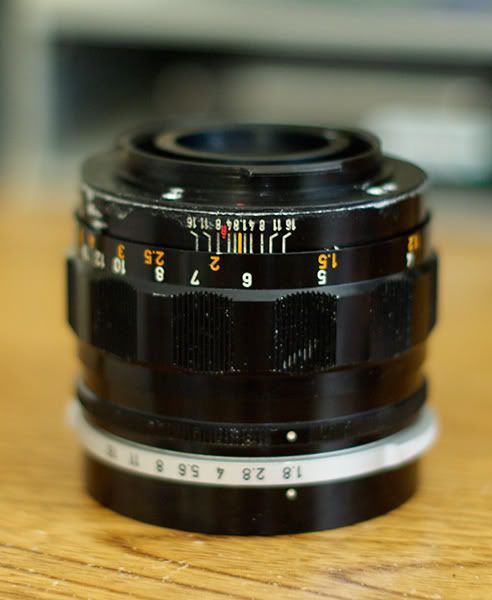 There are some imperfections in my modification:
1. The lens will not have infinity focus. The maximum distance it can focus is around 7-10m. Anyway this distance is good enough for portrait that is my main purpose of using this lens.
2. The focusing ring is unusable. It is bonded with the adapter so will be immobile. To focus, you need to rotate the front of the lens. The focus mechanism is quite long, it takes about a complete turn to go from minimum to maximum focus distance.
3. It is not very convinient to use the aperture ring. This lens is designed in preset style as Jupiter-9 or Zuiko lenses. Its aperture ring is attached on the front of the lens. Since the front is free to rotate for focusing, this makes it difficult to adjust the aperture setting. For me, it is not a big deal because I will use this lens wide open most of the time.
This is my second 85mm after the Jupiter-9 which was sold. IMO, this lens really beats the Jupiter-9 in term of sharpness wide open.
Some test shots at wide open
100% crop